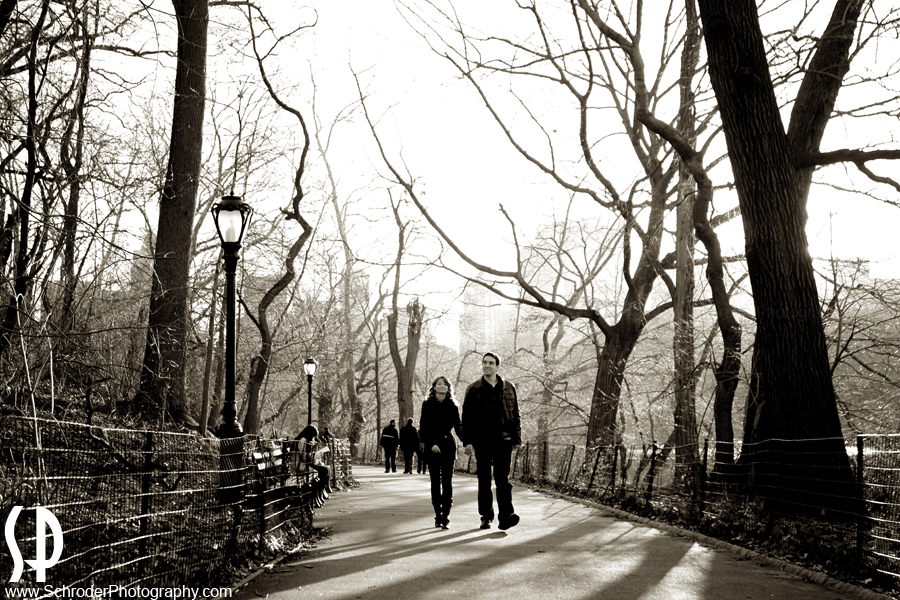 Last weekend I met up with Marie & Brian to do their engagement photos in Central Park.
Originally we were going to do the session in the Sandy Hook area but weather was a factor. Then we thought about in and around Red Bank, New Jersey. But once I sent Marie some samples from a previous shoot I did in Central Park they decided that's where they would like to have them taken.
You really can't go wrong with a photo shoot in Central Park. There are just so many options and you get to spend a nice couple of hours walking around with your fiancee taking in the sights and sounds.
We met up as a starting point at the Central Park Zoo. They told me they were not used to having their pictures taken in public like this and I told them that there was no need to worry. All they have to do is stay close together, walk around looking at the sights and have a good time. I would do the rest by photographing them doing exactly that. In fact that's really about what 95% of an engagement shoot should be: A nice relaxing time together, so that both can feel comfortable and natural for the photographs.
Every so often as we walked around the park we would stop so they could enjoy the view a bit and take it all in as I continued to photograph them. I guess the best way to describe it is that I look at an engagement session less as a photo session and more as a Date between the couple. I just happen to be there to capture it. I look forward to just "happening to be there" at their August wedding!
Once Marie saw the photos a few days ago this is what she wrote me:
Louis, these are amazing!  Thank you so much!  We had a great time taking them, but didn't think they'd turn out THIS good, because we've never taken good photos before.  All our years together we have maybe 5 good photos of the two of us.  Out of these 200+, more than half of them are awesome!  We are shocked – you are incredible.  Thank you!
Here are a few more shots from our walk in the park.
Tags:
Central Park
Engagement photos