Story behind the wedding photo #3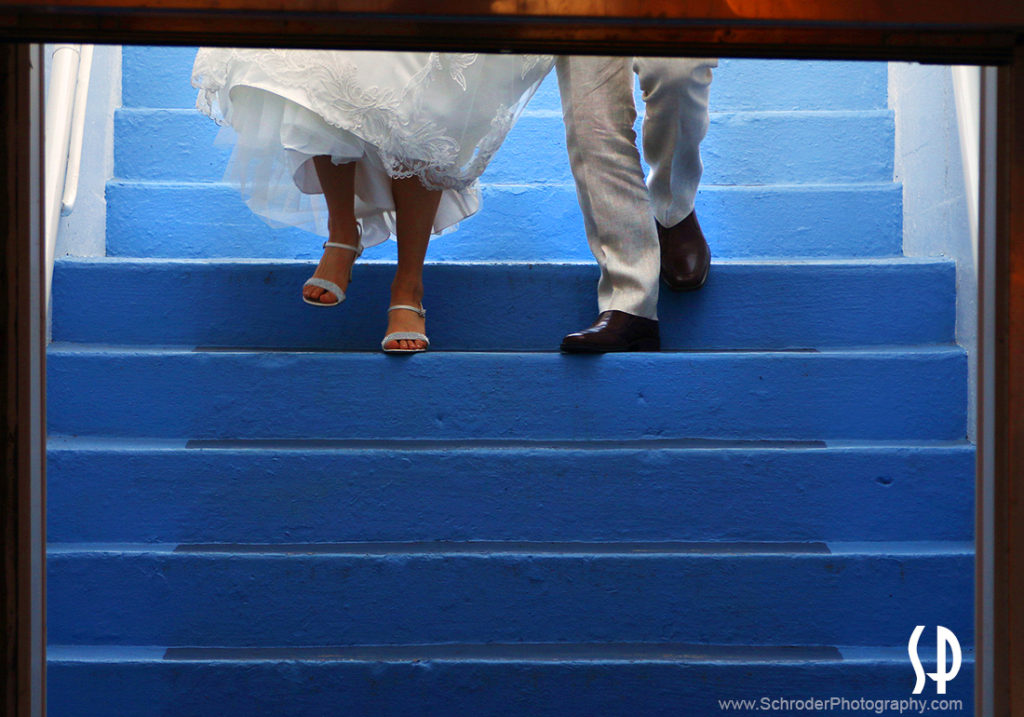 This photograph was taken during the getting ready part of the day. When the bride puts her dress on I usually step out of the room to give her privacy and ask her to call me back in when she is mostly dressed and ready for me. When I stepped outside into the hallway the brides dog was there and was hanging out with me when he suddenly decided he had enough and was going in. He walked right up to the door and wedged himself in there and popped the door open. I had the camera ready and took this photo as the bride was just noticing her pup walking in.
---
This photograph of a just married Chrissy and Justin was taken at the Stanton Ridge Golf & Country Club in New Jersey. After the ceremony at the country club we explored the area and found this hill on the edge of the golf course. I asked them to go to the top so that I could take some shots of them up there. When I saw the clear sky and how the hill entered into the frame I purposefully composed the image to have lots of empty space and just a sliver of the hill showing. Its one of those photographs in which I think more is less. It's interesting how the objective here was to get to the top to take a photo but it's the photo of them getting to the top that to me is truly striking.
---
This is why I love Jersey. We can have weddings in all kinds of places. Beaches, Mountains, Lakes, Cities, Farms, you name it we have it! This photo was taken at the Jersey Shore in Spring Lake. More specifically at the entrance of a private underground tunnel that connects the beach to Spring Lake Bath and Tennis Club. This club is a venue I have photographed weddings at many times and the underground tunnel is amazingly convenient! No need to cross the busy Ocean Ave. Just go down some steps and come out on the sand! In this shot I ran into the tunnel before the couple started their way down and then zoomed in from a distance to capture the moment they first appeared on my viewfinder.
---
Watch this 'Behind the scenes' video of the making of some film photographs by Louis Schroder at Weddings.

About the Photographer: Louis Schroder has photographed over 500 weddings in the New Jersey New York area and is also available for family portraits, events and other photographic projects. Please email or call me for inquiries.