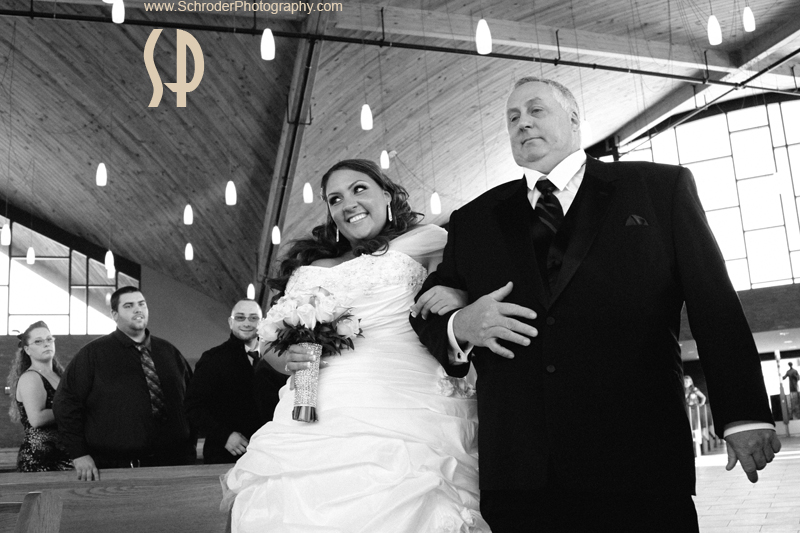 On the 11th on November I photographed Jessica and Darren's wedding in Central New Jersey. I gotta tell you they picked two great locations for the ceremony and reception.First the ceremony at St. Aloysius Church in Jackson New Jersey. It has huge windows which gave us some great natural light the whole ceremony. Since they decided they wanted to do family photos indoors all that extra light was also helpful for some naturally lit group photographs.
The reception location was at the recently renovated Lakeside Manor in Hazlet which is on Rt. 36 on the way to Sandy Hook and the Highlands area. From the outside on the road the Lakeside Manor doesn't catch much of your attention but once inside it looks sparkling new. Lots of White, lots of Marble and just generally fresh and new looking.
One aspect I loved about it from a photography standpoint was that their ceiling in the ballroom was draped in white cloth, which is perfect for my style of shooting. It was like having a beautiful gigantic studio soft box to light every photo I took.
That was my first time at the Lakeside Manor and I hope to return more often! The party itself was great with lots of great moments and emotions. I Thanks Jessica, Darren and their family and friends for a great day and night. Here is a small preview.
Tags:
First Dance
Hazlet NJ
Jackson NJ
Lakeside Manor
Parent Dances
St Aloysius Church