Wedding at The Chandelier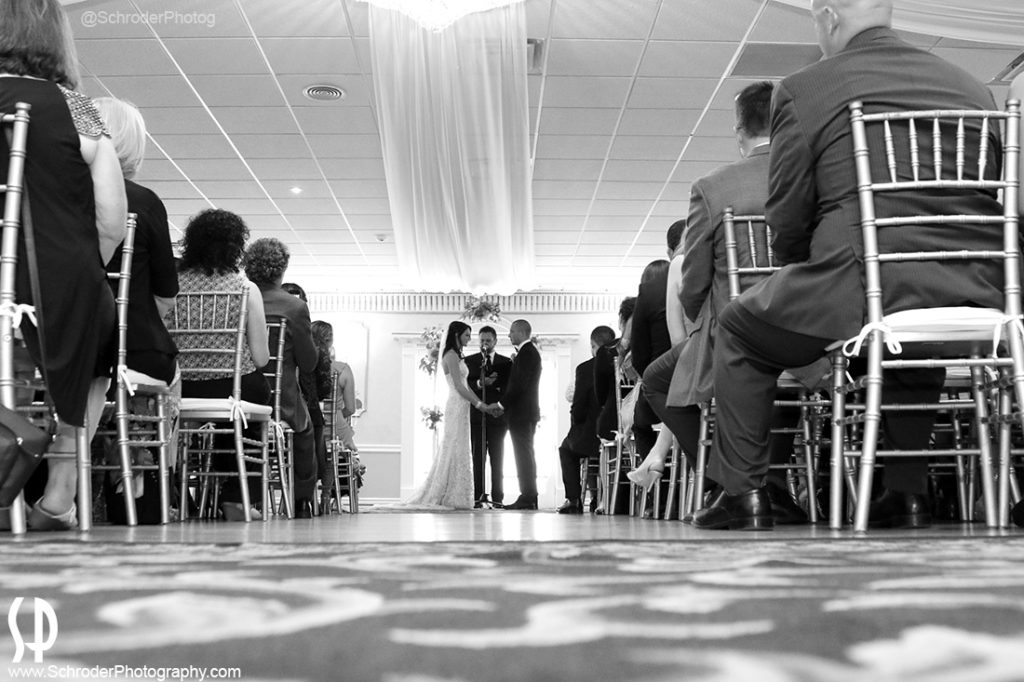 I photographed Juliet and Juan's wedding at The Chandelier in Flanders NJ on a day that threatened heavy rain. When I left my house the weather was sunny but by the time I drove west on rt 80 dark clouds hovered. When I got to The Chandelier it was pouring.
We started with the First Look since the couple didn't want getting ready shots. Luckily after arriving at the venue, by the time we were all ready for the first look the rain had settled down to occasional rain drops. So we headed out back. I asked Juliet if she minded the few occasional drop and she said "No, let's do it!". So we took a bunch of lovely outdoor shots. The train of her dress got a little wet but she shrugged it off like a champ (by the time of the ceremony it was dry). The weather was still unstable and the couple had to make a decision: Ceremony indoors or outdoors? Even though it wasn't raining the couple ultimately decided for indoors, mostly because of the heat and humidity outside as compared to the cool air conditioned indoors.
In the end all went very well and we all had a great time. Funny enough I learned that the groom works in the same hospital as my wife! Here are some previews from the day.
About the Photographer: Louis Schroder has photographed over 500 weddings in the New Jersey New York area and is also available for family portraits, events and other photographic projects. Please email or call me for inquiries.
Tags:
Bridesmaids
Family Photos at Wedding
First Dance
First look
Flanders NJ
Garter
Indoor Ceremony
The Chandelier