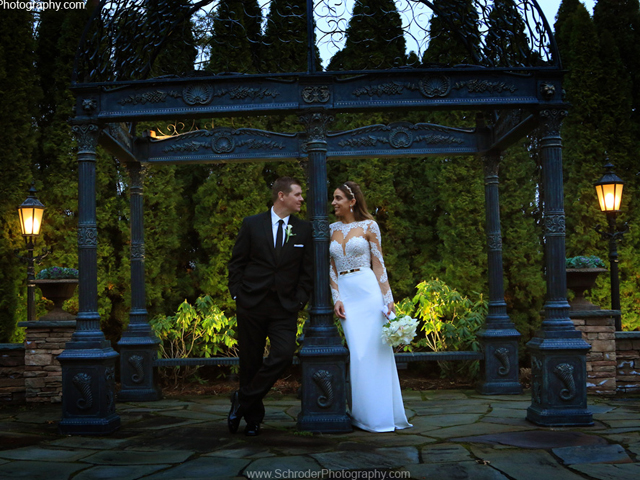 In January I photographed the wedding of Gina and Casey. Yes, a winter wedding, but luckily we had pretty decent weather that day. It was far from a summer day, but not nearly as cold as it usually is in January. As perfect as it can get this time of year! We were all pretty happy!
The ceremony was held at St. Christopher's Church in Parsippany and then the reception was at the Park Savoy in Florham Park. Last year, also in the winter, I had photographed the couple for their engagement photos. That day was really really cold and lots of snow all around, but we had a really good time. A year later here we were at the Park Savoy.
Gina didn't find me the traditional way (ie online), she actually found me through her Mom! For years I have been a customer at the Bank her Mom works at and sometime in 2014 she told me her Daughter was getting married and as they say the rest is history.
It was really a great day. I enjoyed seeing them again and everybody seemed to have a blast as the party was fueled by the music of Brian Kirk & the Jirks. Here are some wedding photos from that day.
PS: Here is Gina's review of Schroder Photography that she posted on The Knot and on Wedding Wire:
"Louis was simply amazing! He did our engagement and wedding photos and both sessions were so unique and creative, my husband and I loved every single picture! Louis is amazing to work with, and the final product of his photos are beautiful; each shot was so perfectly finished. If you are looking for a photographer to capture the special little moments of your wedding, with candid shots that show the true emotion of the day, then Louis is the photographer for you! I cannot thank him enough for all of the amazing photos and memories of our special day!"
Tags:
Brian Kirk & the Jirks
Engagement Photo
Park Savoy Wedding
St. Christopher's Church
Winter Wedding